Anemometer Kestrel 2000 - impeller AIR FLOW and TEMPERATURES meter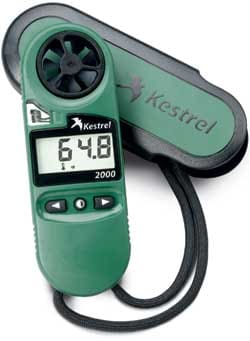 small and resistant pocket size device
air speed measurement:
functions: anemometer, thermometer, hygrometer, barometer
measurement:
fast temperature measurement:

current
wind chill (calculated)

possibility of choosing the result units
easy to read LCD display
waterproof - IP67
battery powered
Description
Anemometer Kestrel 2000 is a small (pocket size) electronic device equipped with an impeller for current wind speed measurement and a thermistor sensor for air temperature measurement. The anemometer's impeller of very light structure, has precise, sapphire bearings, what assures accurate wind measurement also with small air speed. In case of damage the impeller can be easily replaced by a user.
Combining of an anemometer and a thermometer allows calculation through a built in device microprocessor an additional parameter–wind chill. This parameter is useful i.e. in case, when staff is send to work in cool and windy days in the open field. The device, except from the current wind speed, allows on a maximum wind speed reading as well as an average in various units. The anemometer Kestrel 2000 has an easy to read LCD display where digits are 9 mm high. The result's updating on the display is takes place every second.
The device is powered from a lithium battery (tablet ), which assures continuous work of the device through 400 hours. The device switches off automatically its power supply, if no key button is used for more than 30 minutes.
The anemometer is made out of plastic, and its electronic elements are fully protected from moisture (material filing). The device floats, if it is accidentally dropped into water.
The device is equipped with a hard case and a wrist lanyard (protecting the device from being dropped during exploitation).
Usage
The anemometer Kestrel 2000 was designed in such way, so it assures possibly easy and comfortable usage tylko with help of two key buttons: "ON" – a key button switching the power supply on and off and "MODE" – a key button choosing a type of displayed measurement result: air speeds (current, maximum or average) or temperature (current or wind chill). Pressing the key button "ON" and pressing "MODE" it is possible to obtain unit change, in which the results are displayed.
Applications
The anemometer is possible to be used in such fields as:

agriculture - conditions for sprayings, conditions of storing the agricultural produce,
motorization – control of cooling and air-conditioning systems,
aviation – meteorological conditions for conducting the flights of gliders, hang-gliders, balloons,
industry- controlling work conditions, air flow control in technological processes,
coast guard - control of safety conditions,
sport - control of conditions for performing different sports disciplines,
air-conditioning and heat engineering- work control of ventilation and air-conditioning channels,
fire department – assessing wind influence on fire's spreading,
police - control of the wind on roads (i.e. perpendicular to a way of traffic movement),
science and research- meteorology, aerodynamics, environment testing.
Technical data
MEASUREMENT OF AIR SPEED

Scope of measurement
0,3...40 m/s
Measurement uncertainty (for a component in a device axis)
+/- 3% of a reading or +/- 0,1 m/s
Underrating indications for wind tilted from a device's axis
-1%
for 5° angle
-2%
for 10° angle
-3%
for 15° angle
Calibration drift
<2%
after 100 hours of work
at 7 m/s speed
Measurement resolution
0,1
kt, m/s, km/h, mph
1
FPM
from 1999 FPM
10
FPM
up to 2000 FPM
1
Beaufort
0...12
Speed measurement result reading
current
average from the last 3 seconds
average
an average from the moment of switching on the power supply
maximum
3-second wind gusts
from the moment of switching on the power supply
Choice of result units
kt (knots), m/s, km/h, mph (miles per hour), FPM (foot per minute), Beaufort degrees

AIR TEMPERATURE MEASUREMENT
Scope of measurement
-15...+50 °C
Measurement uncertainty

+/- 1 °C
Measurement resolution
0,1 °C
Temperature measurement result reading
current
wind chill
Choice of result units
degrees C, F
WORK CONDITIONS
Degree of casing protection
IP67 (waterproof with immersion up to 1 m in depth), floats on the water
Mechanical resistance

resistant to fall from height of up to 2 m

Scope of work temperatures
-15...+50 °C
Scope of storage temperatures
-20...+80 °C
Electromagnetic compatibility

CE mark

POWER SUPPLY

Battery
lithium, type CR2032
Battery work time
400 hours
Automatic power supply switch off
after 30 minutes
MECHANICAL PARAMETERS
Overall outside measurements
122 x 42 x 14 mm
Overall case dimensions

117 x 46 x 19 mm
Weight (along with a case)
66 g
Impeller diameter
25 mm