HUMIDITY, TEMPERATURE and PRESSURE LABORATORY LAB-EL - Calibration Department

---
Calibration:

hytherographs
hygrometers
psychrometers
thermometers
resistance thermometer sensors
barometers
difference pressure gauge
climatic chambers


---
Measurement laboratory accredited by the Polish Center for Accreditation - the accreditation certificate no. AP 067
From April 2001 in the LAB-EL company's seat operates the Humidity, Temperature and Pressures Laboratory, which starting from June 2004 is a laboratory accredited by the Polish Center for Accreditation (the accreditation certificate no. AP 067) in the scope of performing the calibration of :

hytherographs,
hygrometers,
psychrometers,
dew point hygrometers,
electronic thermometers,
thermometer platinum sensors (resistance thermometers sensors),
thermoelectric sensors,
barometers,
difference pressure gauge,
climatic chambers,
thermostatic chambers,
liquid bath,
for the measurement of:

temperature,
relative humidity,
dew point temperature,
pressure,
vacuum (barometers).
The Laboratory's purpose is to perform calibration and adjustment services for the devices produced in the mother company (an internal client) as well as goods produced by other producers and /or manufactured in the LAB-EL company, but ordered from outside (an outside client).
The Calibration Laboratory LAB-EL confirms microclimate properties of the examined devices according to the requirements of the Standard PN-EN ISO/IEC 17025:2005. The Laboratory's purpose is to perform high quality services among others through:
applying the procedures assuring objective, credible and reliable actions in the scope of calibration and other research works,

high quality measurement equipment allowing on performing the measurements with very high accuracy,
preparing calibration certificates containing all information needed by a client,
highly qualified and competent staff,
prompt order processing.
The Humidity, Temperature and Pressure Laboratory of LAB-EL company performs calibrations in the Laboratory's seat in the scopes provided below (scope of accreditation AP 067 - at PCA page):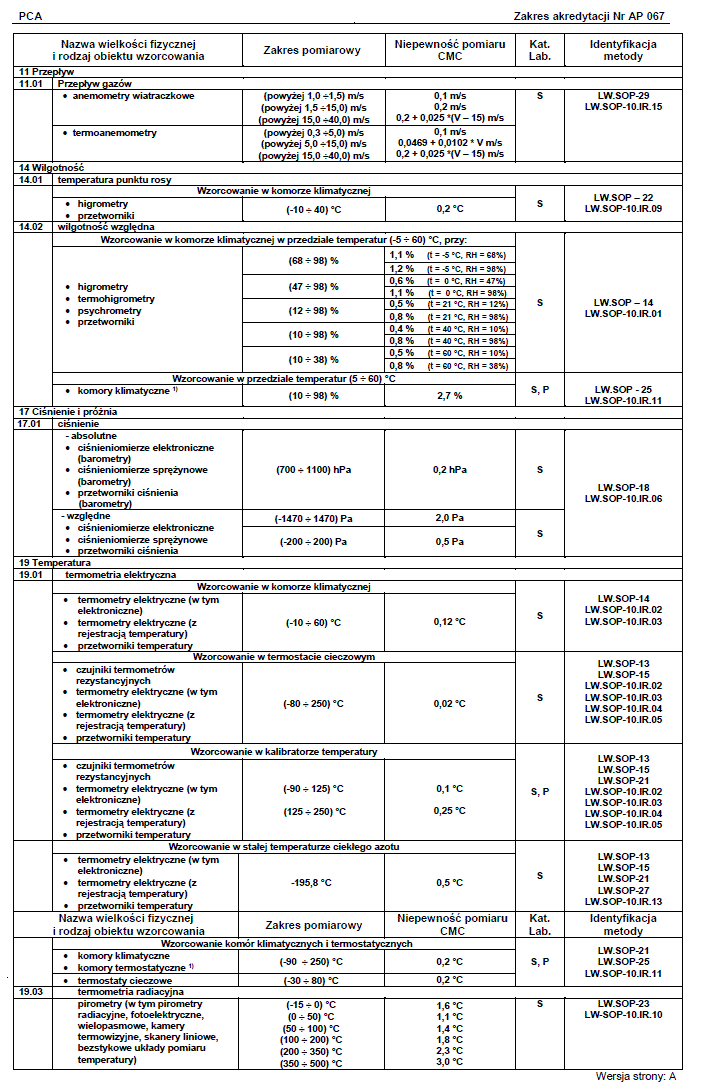 The Laboratory also performs outside examinations of the micro-climate in rooms (magazines, climate chambers) that are at a client's place.
The Laboratory also performs activity in the scope, which at present time is in the process of obtaining an accreditation, especially in:

calibration and adjusting of the devices pressure meters,
calibration of the pirometers.

Extended purpose description is introduced in a separate document which focuses on the Laboratory's purpose, scope, procedures and the quality policy of the Laboratory. An example calibration certificate form the Laboratory LAB-EL is provided here.

Laboratory's offer of services and the standard calibration points are included in the price list.