PSYCHROMETER LB-754P with a panel LB-706T/GT
---
functions: thermometer, hygrometer, recorder (logger)
measurement: temperature, air relative humidity, dew point temperature, moisture content
portable device
built in registry memory
interface RS-232 for a PC
optionally a printer
---
Description
Panel LB-706T
A panel LB-706T is a device designed for the measurement results processing and visualisation. It is a version of a panel LB-706 which was additionally equipped with a built in measuring set for cooperation with two thermoresistors Pt1000. Different probe versions attached to the panel LB-706T allow on measurement of the following values:
air temperature and humidity: panel LB-706T and psychrometer LB-754P,

temperature of two mediums simultaneously (gas, liquid, solids) – panel LB-706T and a double thermometer LB-754T (of various temperature sensor mechanical structure),
medium temperature - panel LB-706T and a single thermometer LB-754J.
The panel's LB-706T keyboard allows on switch the device on and on parameter programming as well as viewing of the registered measurement results. The panel in a version LB-706GT has a simplified keyboard which allows on switching the panel on and off.
Small size and a possibility of being battery powered (or from an outside network feeder) allow on using the device in the field conditions.
Psychrometer LB-754P with a panel LB-706T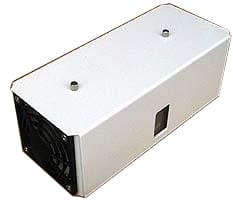 A psychrometer LB-754P in connection with the panel LB-706T creates a device which measures air temperature and humidity using a psychometric method. Basic advantage of an electric psychrometer is high humidity measurement accuracy (not worse than 1%), especially in the scope of very big humidities (close to 100%). The psychrometer is free from flaws of meters based on a thin layer capacity humidity sensors (hysteresis and a drift for big humidities).

The psychrometer consists of two thermometers working using platinum thermoresistors Pt1000: dry and wet (moistened using a wet wick). Uniform air flow is assured by an electric fan. The thermometers are fastened horizontally inside a metal casing above a container with distilled water. A connection cable that comes out of the psychrometer is ended with a plug which allows on attaching to a reading panel LB-706T.

The psychrometer's LB-754P cable plug has a built in digital non-volatile data memory in which the numerical coefficients are stored associated with a certain psychrometer's piece that get determined during the process of device calibration. Because of it the psychrometer can be used with different pieces of the reading panel LB-706T without noticeable accuracy worsening. The panel LB-706T has a precise analogue-to-digital converter and a microprocessor controller which basing on the measurement signals and read calibration characteristics calculates the values of: relative humidity, temperature, dew point temperature and volume of water steam content in the air. All of the results can be simultaneously visualised on an alphanumeric LCD screen display (2 lines 16 characteristics each) and can be sent outside through an interface RS-232.


The panel interface allows additionally on entering of the calibration data during calibration with adjusting. The panel an the psychrometer cooperating with it do not have any mechanical calibration elements (i.e.: potentiometers, trimmers). The calibration of the device is performed by sending calibration data obtained in the model climate conditions through a digital interface to a non-volatile memory of the device. It guarantees comfort and high calibration accuracy as well as stability of the device's meteorological parameters in time.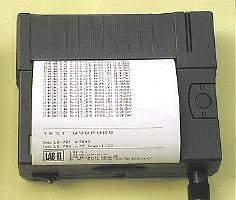 Kafka-1R printer can be
an outside recorder
There is also a possibility of data registry to an internal memory of measurement history and later rewriting of the measurements results to an outside device through the communication interface RS-232. The interface can be attached with a thermal printer, a modem LB-430 for radio GSM /GPRS transmission or a PC computer. In the device equipment there is also a computer program which allows on current readings' visualisation on a monitor screen, programming the device's settings and reading of the recorded measurements as well as transferring them to a file on the computer.
The panel is equipped with a clock, which provides a base for time registry and determines automatic device switch on/ off times in an energy saving mode. It allows on using the device as a one station temperature and humidity recorder.
The way in which the measurements' registry is performed in a built in panel memory LB-706T is set by a user with help of an instrument software. The registry's configuration is done through:
choosing the entries' interval from a scope of 1 minute to 45 days with 1 minute resolution or choosing 0 as an interval what is equal with no registry,
choosing one of the mentioned entries modes:

entry with continuation (the oldest records are deleted and new ones are stored in their place),
or entry with blocking (registry is blocked after the memory is full).

choosing data set for registry (record structure) - temperature entries resolution is subjected to an additional configuration.
The panel LB-706T serves various types of registering memory and from the type of memory and kind of data stored in it depends the maximum number of records possible to be stored. In example: a standard memory version (32 pages) allows on registry of over 2600 records of humidity and temperature with 0,1°C resolution where an extended (128 pages) – of over 10000 records.
The psychrometer is powered only from an outside network feeder of small voltage since there is a necessity of powering a fan which consumes approximately 1,2W.
Each psychrometer (upon a request) can have an individual calibration certificate issued by the LAB-EL Calibration Laboratory.
Technical data
TEMPERATURE MEASUREMENT LB-754P
Device version
Scope of measurement
Measurement inaccuracy
LB-754P + LB-706T
5..70°C
+/- 0,1°C +/- 1 last digit
HUMIDITY MEASUREMENT LB-754P
Measurement inaccuracy
+/- 1,0%, +/- 1 last digit
in the scope 50,1..99,9%
+/- 1,5%, +/- 1 last digit
in the scope 15..50%
+/- 2,0%, +/- 1 last digit
below 15%
Scope of measurement
5..99,9%
MEASUREMENT READINGS LB-706T
Parameter
Scope of readings
Resolution
Air temperature
-40..+70°C
0,1°C or 0,01°C
Relative humidity
0,0..99,9%
0,1%
Dew point temperature
-40..70°C
0,1°C
Volume water steam content in the air
0..99999 ppm
1 ppm
Time
months, days, hrs, min

1 min
POWER SUPPLY

network 230V
stabilized feeder 12V DC / 250 mA
energy consumption
< 150 mA (from a feeder 12V)
SCOPE OF WORK TEMPERATURES
Device
Scope
Comments
Panel LB-706T
0..+50°C
Psychrometer LB-754P
5..+70°C
RECOMMENDED CONSTANT WORK CONDITIONS
Scope of temperatures
10..40°C
Scope of humidity
20..80%
Level of environment corrosion aggressiveness accord. PN-71/H-04651
B
Degree of casing protection
IP 20
INTERFACE
Series RS232C, 4 lines (RxD, TxD, DTR, GND), switching on the interface's power supply system - active line RTS stage from a computer, transmission parameters: 9600 bps, 8 bits of information, without evenness control, 1 stop bit.

OVERALL DIMENSIONS
LB-706T: 185 x 100 x 45 mm,
LB-754P: 70 x 80 x 170 mm.
EQUIPMENT

network feeder,
cable for the interface RS232C,
computer instrument software for cooperation with a panel LB-706.
OPTIONAL EQUIPMENT
thermal printer KAFKA-1R,
modem LB-430 for radio transmission GSM / GPRS.
GOOD CLIMATE IS FAVORABLE