LB-474A3 Dual Thermometer, Psychrometer - Universal PID Regulator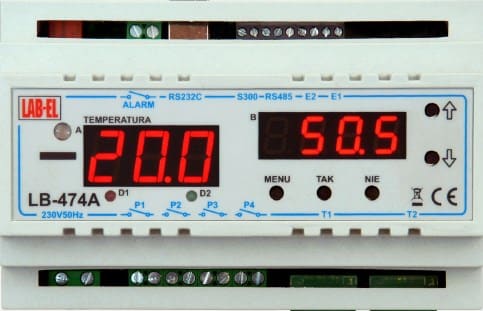 Small regulator LB-474A3, mounted on a DIN rail. The module contains measuring circuits for two Pt1000 sensors. Precise temperature measurement carried out using a 24-bit ADC converter. It is possible to measure the wet-and-dry bulb temperature with the calculation of the relative humidity of the air.
Control in 4 channels with a choice for each channel of variable among: temperature, humidity, temperature difference or externally given quantity by an optional analog or S300 digital input. The regulator can be used in industrial installations, as an agricultural regulator, in wood dryers, thermostats, incubators.
Measurements:
2-channel temperature Pt1000, resolution 0.01°C, uncertainty 0.1°C
optionally: wet-and-dry bulb temperature, relative humidity, resolution 0.1%, uncertainty 1%
optionally: 4-channel 0-10V or 4-20mA analog input
optionally: 2 binary inputs (isolated)
optionally: 2 digital S300 inputs for external sensors (isolated)
Output:
5 relays 1A 250V - control and alarm
optionally: 2 additional relays or SSR control
optionally: 2 analog outputs 0-10V or 4-20mA (isolated)
optionally: digital S300 output
Regulation:
4 channels: PID, ON-OFF, time sequences: PWM, trigger, delayed on/off
Communication:
USB, S300 output
optionally: RS-485 (Modbus RTU) - (isolated)

Power:
Operating range:
0..50°C
-200..+600 (external probes)
Closure: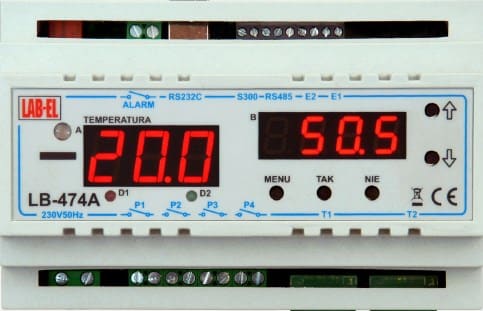 precise 2-channel Pt1000 thermometer
humidity psychrometric measurement - hygrostat

analogue 0–10 V, 4–20 mA inputs and outputs

4-channel, PID, on–off, time-regulator

S300 , USB or RS-485 interfaces
up to 7 relay outputs

alarm signalling of limits breached
may be calibrated at the facility
logical functions, day/night adjustment
Inputs and outputs of the regulator
Analogue inputs
The LB-474A3 regulator is, as a standard, equipped with a measurement module of analogue inputs, operating in one of the available modes:
two Pt-1000 or Pt-100 platinum thermometers that may calculate the relative humidity, if the thermometers function as a psychrometer (a wet-and-dry bulb thermometer);
four analogue 0–10 V, 0–1 V or 4–20 mA inputs with a common ground; 4–20 mA current measurement is obtained via an externally mounted sense resistor.
The measuring module of the analogue inputs is factory-calibrated; additionally, it is possible to calibrate by entering inputting temperature corrections or an individually defined psychrometric constant. In the analogue input mode the user may calculate each and every input value (0–10 V, 0–1 V, 4–20 mA) according to individually defined variables that may be used as an input signal for the regulators, or may be displayed.
Pt1000 and Pt100 resistance thermometer
The usage of platinum RTD probes and a four-wire connection between them ensures high measurement accuracy and thermometer consistency. The external temperature sensors come in casings with a design adapted to individual requirements. There are various versions of sensor casings for measurement in different media and ranges available.
Temperature measurement module for Pt sensors works with high precision in the range of -200°C – +650°C. It is calibrated with a division into 8 measurement ranges, considering standard IEC 751 characteristics for platinum RTD thermometers.
LB-754PAY wet-and-dry bulb thermometer
The LB-754PAY wet-and-dry bulb thermometer in combination with the LB-474A panel is a device that measures air humidity and temperature. The basic advantage of the electronic wet-and-dry bulb thermometer is high humidity measurement precision — maximum of 1% in the range of high humidity values. The wet-and-dry bulb thermometer is free of flaws typical for meters based on thin-layer capacitive humidity sensors (hysteresis and drift for high humidity values). The wet-and-dry bulb thermometer consists of two thermometers operating with the use of Pt1000 platinum probes: dry and wet (dampened with a wick). Uniform flow of air is secured by an electric fan. Thermometers are mounted horizontally, inside a metal casing, over a distilled water tank.
Calibration certificate
Per additional order, the LB-474A3 temperature and humidity regulator with connected temperature sensors may feature an individual calibration certificate for temperature/humidity measurement path issued by a PCA-accredited LAB-EL Calibration Laboratory. The certificate is issued after individual adjustment performed in the Laboratory and after the calibration. The certificate covers a set consisting of the LB-474A3 with Pt-1000/Pt-100 probes.
Binary inputs
The instrument may be optionally equipped with one or two binary inputs. One binary input occupies one option slot (the regulator features two option slots). The binary input may be controlled with a 0/10 V signal. The input is galvanically isolated.
S300 inputs
The instrument may be optionally equipped with one or two S300 inputs. One S300 input occupies one option slot (the regulator features two option slots). The S300 connection is a method of connecting measurement sensors via 1 pair of cables, devised by LAB-EL. The S300 executes connections over considerable distance in an environment of higher level of interference. LAB-EL's product range features many devices with S300 output.
The regulator may serve up to 3 variables for every S300 input. For example: when the LB-710A thermohygrometer is connected to the S300 input, there will be two variables available in the regulator: temperature and relative humidity. Any variable may be displayed in the instrument's B display.
Relay outputs — binary
By default, the instrument is delivered with 5 relays, with configurable functions. They may be used as a regulation path output of an on–off threshold type, or three-way regulation, eventually for PWM for PID algorithm. Relay outputs may also be connected with logic signals available in the instrument, e.g.: value compactors, runtime, measurement errors or alarm generators.
In each of the option slots an additional relay output may be featured, thereby increasing the number of relays to 7. In option slots, instead of the relays, there may be 0–10 V voltage outputs, designed for controlling the external SSR relay.
Analogue outputs
The instrument may be optionally equipped with one or two analogue outputs out of the following: 0–10 V, 0–1 V, 4–20 mA. One analogue output occupies one option slot (the regulator features two option slots). Configuration of the analogue slot enables it to be connected internally to an output signal of a selected path of the PID regulator. It is also possible to switch the source of this signal — e.g. to a constant value — using the programmable logic structure of the regulator.
Regulator
The instrument features 4 regulation channels. Each channel is assigned with any given PV input variable, and a settable series of operation parameters. Available types of regulation are:
on–off threshold with hysteresis;
PID with three-way output (throttle control), PWM carried out on a relay, or analogue output;
timing generators: PWM, pulse triggering, delayed on/off .
Regulation may be effected in two time zones (e.g. day/night).
Programmable logic
Logic gates
The regulator carries out elements of logic to create more complex regulatory schemes. The logic is based on 16 logic gates (AND, OR, XOR) and 4 multiplexers (switches) of analogue signals. These elements makes it possible to connect signals between regulation paths, switch values issued to analogue output, run time sequences triggered by a combination of statuses: regulators, binary inputs, analogue value compactors, alarms, measurement errors, etc.
Real-time clock (RTC)
One of the logic elements is an optional real-time clock (RTC). The clock is installed in an option slot (it occupies one of the two option slots). The RTC ensures control in two time zones (e.g.: day/night); each of them may have a separate set of regulation values (SP) and alarm thresholds.
Communication
USB port
This enables the regulator to connect to a PC and its functions to be programmed via dedicated software. The basic configuration program of the device — ws474.exe — is provided with the instrument and is included in the price.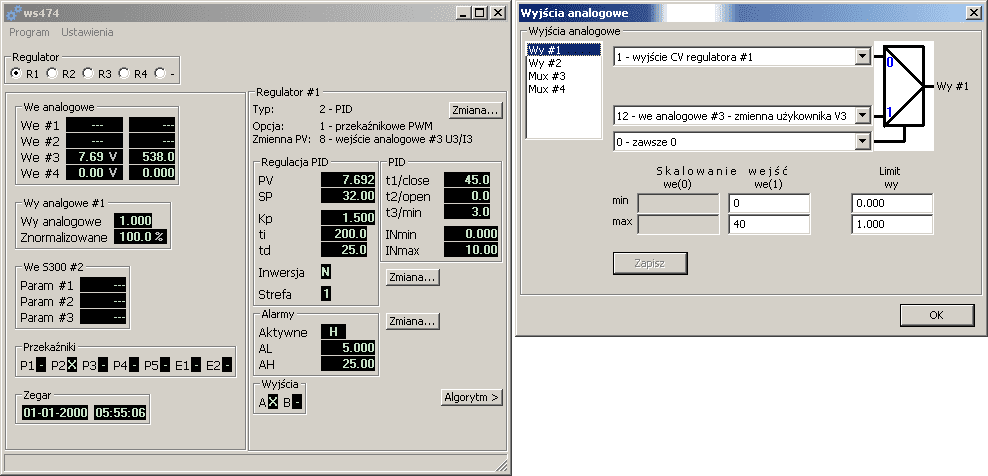 Advanced LBX Server (SCADA-type software) offers a wide range of functionalities, including recording, visualisation and control over numerous devices. The LBX software is not included in the price.
RS-485
It is possible to install an additional RS-485 interface to use with the Modbus-RTU protocol. The interface enables communication with many devices via a common data bus. The interface guarantees galvanic isolation. It is not possible to use USB and RS-485 interfaces concurrently, as both interfaces share the same regulator serial port.
S300 output
The output port of the S300 digital current loop makes it possible to connect a regulator with other LAB-EL devices, e.g. hubs and data recorders: the LB-476 and the LB-480 hubs. An advantage of the S300 line is its capability to extend over hundreds of meters; it is based on a 2-wire cable; it is resistant to interference and provides galvanic isolation.
Display
Large, 3-digit display designed to display temperature measurements; the small display shows one value selected from all possible measured values. The presentation's resolution is selected according to the number of digits that may be displayed.
Device menu
The regulator is equipped with 5 keys and a menu system for programming operation parameters, without the need to connect a PC.
Installation and usage
The controller is designed for application in stationary conditions; its housing is equipped with taps making it possible to mount on a standard DIN TS 35 rail. The device is powered from the mains: 230 V 50 Hz.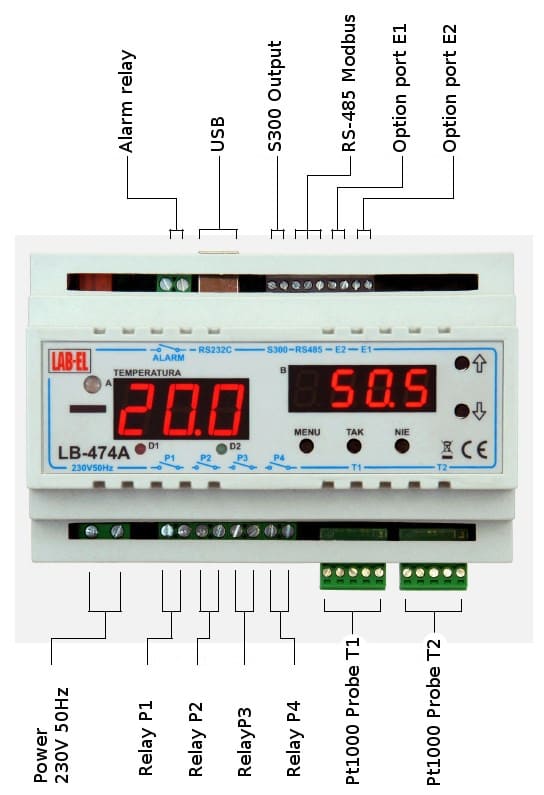 Operating notes
The controller may be mounted inside an additional external housing, e.g. wall switchgear. The climatic category of the additional external housing must be adapted to the conditions where it is installed. The device is delivered without wiring (including the power cable), as a component to be installed by an authorised person.
Exceeding the recommended operating conditions (e.g. when installing the device outdoors) requires the use of additional protective measures for the electronic part of the device against the eventuality of water apearing inside the device (the use of additional external housing).
Simplified version of the regulator
The LB-474A3 regulator features a simplified version, limited to on–off adjustment of temperature and humidity. The simplified version is the LB-474A2 regulator - it features a limited number of configurable parameters and a vastly simplified menu.
Technical Data
TEMPERATURE MEASUREMENT
Measurement range
-199.9…+650.0°C
Measurement resolution
available via communication port
0.01°C
available on the screen
0.1°C (max.)
Measurement uncertainty for an individual calibration in the range of -40…+150°C
±0.1°C
Measurement uncertainty for an individual calibration in the remaining range
±0.2°C
HUMIDITY MEASUREMENT
Measurement range
5.0…99.9%RH
Measurement resolution
0.1%RH
Humidity measurement uncertainty for an individual calibration over 50%RH
±1%RH
Humidity measurement uncertainty for an individual calibration over 15…50%RH
±1.5%RH
Humidity measurement uncertainty for an individual calibration below 15%RH
±2%RH
0–10 V VOLTAGE MEASUREMENT
Measurement range
0–10 V
Measurement resolution
0.01 V
Measurement uncertainty
0.05 V
0–1 V VOLTAGE MEASUREMENT
Measurement range
0–1 V
Measurement resolution
0.001 V
Measurement uncertainty
0.005 V
4–20 mA CURRENT MEASUREMENT
Measurement range
4–20 mA
Measurement resolution
0.01 mA
Measurement uncertainty
0.05 mA
POWER SUPPLY, CONTROL OUTPUTS, DIMENSIONS
Mains supply
230 V 50 Hz
Power consumption
5 VA
Load capacity of relay outputs
230 V, 1 A, resistance load
Interfaces
USB or RS-485
S300 —

digital current loop

Housing on DIN TS 35 rail
135 x 90 x 58 mm
OPERATING TEMPERATURE RANGE
LB-474A3 regulator
0…+50°C
Temperature sensor
range limited by the design of the

temperature sensor (see sensors' data)
RECOMMENDED CONTINUOUS OPERATING CONDITIONS
Temperature range
10…40°C
Humidity range
20…80%, without water condensation
Degree of environmental corrosivity, according to PN-71/H-04651
B
Protection class according to DIN40050
IP40

See also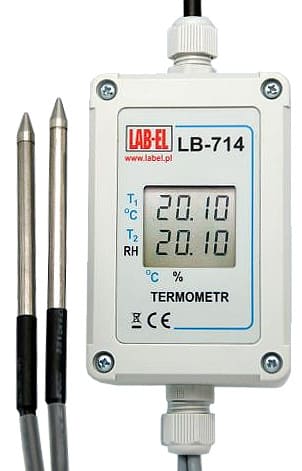 Dual Thermometer LB-714
A double thermometer with a psychrometer function. Temperature and humidity measurement. Wide range of measurement.