Analogue signals rapid converter, precision AC converter LB-499-ADC
Applications
The additional A/C converter module is a 6-channel, 24-bit analogue signal acquisition module. A unique feature is the concurrent sampling of all channels. The range of the input voltages is ±10.5 V, and the sampling speed is selected from the range of 1 sps to 1,000 sps (samples per second).
The module may be connected to the following devices:
In the LB-480 and LB-490 memories, only samples with a frequency of 1 sps may be introduced. Higher frequency recording is only possible with the use of external software other than the SCADA LBX software (details available in the event of any queries).
The LB-499-ADC module does not give the possibility to program internal alarm thresholds in LB-480 in the same way as with the 8 inputs built into the LB-480. Alarms coming from the inputs of the LB-499-AIN insert may be also programmed in the SCADA LBX application.
Practical application of the converter
The applications include:
read-out of signals from seismographs;
Power measurement in a 3-phase electric network;
automatic measuring systems.
Accuracy/speed of processing
Accuracy of processing and speed of sampling are mutually opposite parameters — accuracy is inversely proportional to an increase in speed.
The functionalities of the analogue signal converter are sufficient:
8 data bits at 1,000 samples per second;
24 data bits at 1 sample per second.
Basic parameters of analogue signals converter
Temperature measurement resolution
24 bits (noise ≤ 20 ppm for 1 sps)
Range of measured voltage
-10.5… +10.5 V
Input resistance to overload
Short-time(<1 s) 400 V
continuous 100 V
DC voltage measurement uncertainty
≤ 100 ppm after initial calibration
Temperature console
≤20 ppm/K for DC
Input impedance
1 MΩ
Measurement mode
Mode 0: 24 bits, 1 sps, 52 Hz band
Mode 1: 24 bits, 10 sps, 105 Hz band
Mode 2: 24 bits, 1,000 sps, 500 Hz band
Mode 3: 24 bits, 1,000 sps, 1000 Hz
* sps = samples per second
*the band is given with the tolerance of ±15%
Input power
0.5 W (max.)
Temperature range
storage: -10°C… +60°C
usage: 10°C… 40°C, non-condensing

See also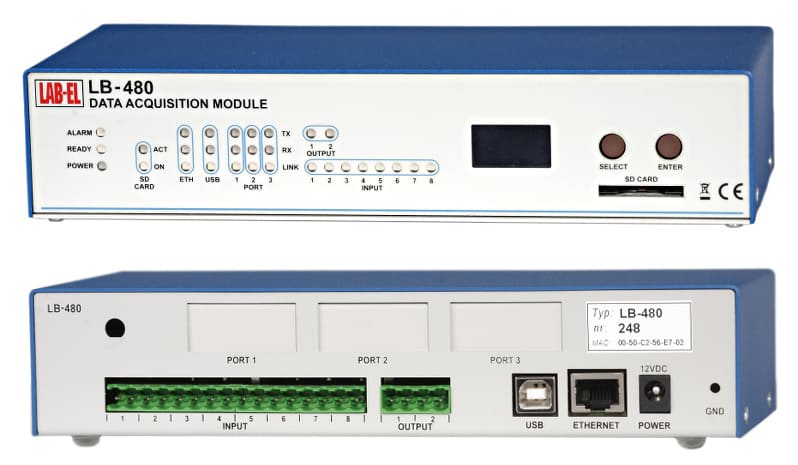 LB-480
Internet thermometer - data logger with Ethernet and GSM / GPRS interface.