Serial interface modules: LB-499-RS232, LB-499-RS485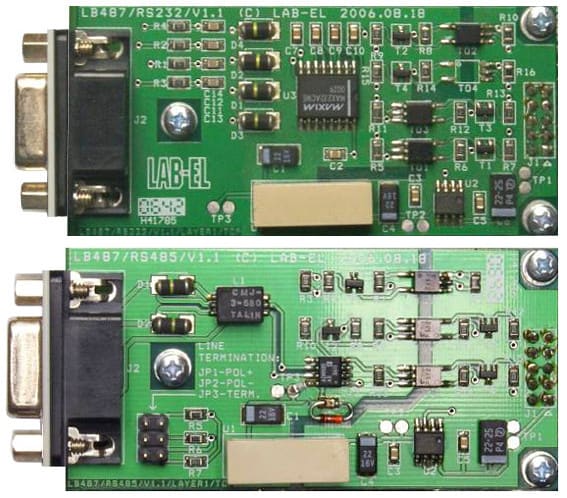 Additional serial transmission input modules include:
A module may be installed as an internal insert in the following devices:
LB-480 — data recorder;

LB-487

— data recorder (currently unavailable);
LB-490 — data recorder/weather station.
The modules provide full galvanic insulation between the recorder and interface terminal, with measurement equipment provided.
The module enables the usage of SCADA LBX software for communication with external devices equipped with a serial interface. For example: the LB-499-RS485 module may be used for communication with LB-762 regulators or other selected devices, operating in MODBUS standard.
The RS-232/RS-485 port located on the additional extension module makes it possible to transmit data in various ways:
The LB-480 recorder is a slave type device in the MODBUS/RTU protocol.

The SCADA type software (or any other that is able to read out data with the use of the MODBUS protocol) may read data from the LB-480 recorder in this way.

The LB-480 recorder reads data from any other device.

Data read-out from other devices directly via the LB-480 recorder needs to be supported by the device's firmware. Currently, the SR-50 ultrasound range-finder is supported, which is used in meteorological measurements (e.g. for measuring the thickness of snow cover).

Remote port for the SCADA LBXsoftware.

In such a configuration, the LB-480 recorder only mediates the data transmission between the SCADA LBX software and the device whose serial port is connected to the LB-480 recorder. The LB-480 recorder is 'transparent' both for the LBX software and the device — it only sends data. The LBX software communicates with the device, as if it is connected directly to a computer.