LB-516A/AT Temperature and Humidity Recorder - Thermohygrometer

miniature thermometer, hygrometer (logger, thermograph, thermo-hygrograph)
temperature (thermometer) or temperature and humidity (thermohygrometer)

temperature recorder, humidity recorder

temperature or temperature and humidity monitoring in transportation
wide operating temperature range
miniature, robust housing
USB interface
specialist LOGGER application for presenting temperature and humidity measurements in the form of:

a time chart
a temperature and humidity histogram

the time when alarm values were breached
dew point temperature

LB-516T — the smallest version of the mini-recorder for air temperature measurement

Description of the recorder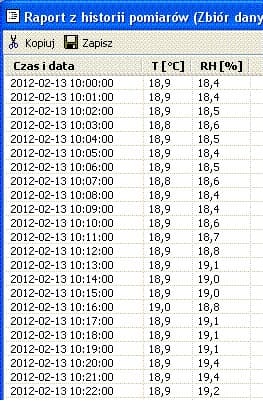 The LB-516A electronic thermohygrometer is a miniature temperature and humidity recorder, powered by a built-in long-lasting lithium battery. For measurement the recorder uses a built-in temperature sensor and humidity capacitive sensor.
The recorder is equipped with a large memory for storing measurement results, which — for example, with the recording interval set to 20 minutes for the LB-516AT temperature recorder — is sufficient to record measurement entries for more than a one year recording session. It is possible to store in the memory by "overwriting" (when the memory is full, the oldest recordings are deleted). The recording is commenced when the key on the recorder's housing is pressed.
The recorder also allows temperature and humidity threshold values (lower and upper) to be set that when breached during a recording sessionLB-516A trigger an alarm (when the key is pressed) with a lit colour LED diode.
The LB-516A thermohygrometer is a wireless device and fully automatic (it does not require interaction with a computer while recording). The recorder is programmed (e.g. setting the interval, method for starting the recording), and, subsequently, the read-out is performed and the stored data are printed out with the use of a PC, after connection to a USB port. The LB-516 temperature and humidity recorder does not require any additional interface — it may be connected directly to the USB port of a computer with a USB AB type cable.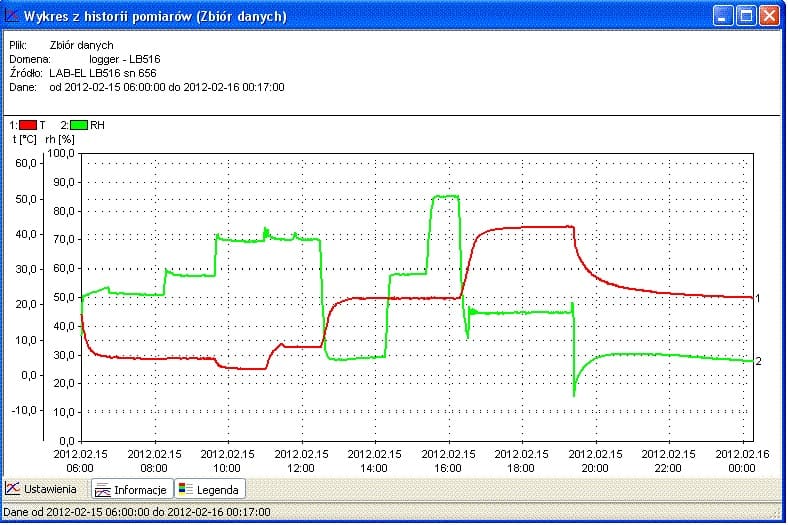 For interaction between the LB-516A recorder and a PC, the specialized LOGGER application is used. This application enables the full service of the recorder: preparation and end of recording, read-out of the recorded temperature and humidity, presentation of the recorded data in the form of a table, chart and histogram, recording memory clearing, setting temperature and humidity alarm thresholds, introduction of any descriptive text into the instrument's memory.
Each temperature and humidity recorder features a permanently saved serial number, providing unequivocal identification and the possibility of inputting the user's name and mission name (the individual name of a given recording cycle).
Calibration certificate
Each thermohygrometer may feature an individual calibration certificate issued by the LAB-EL Calibration Laboratory.
Application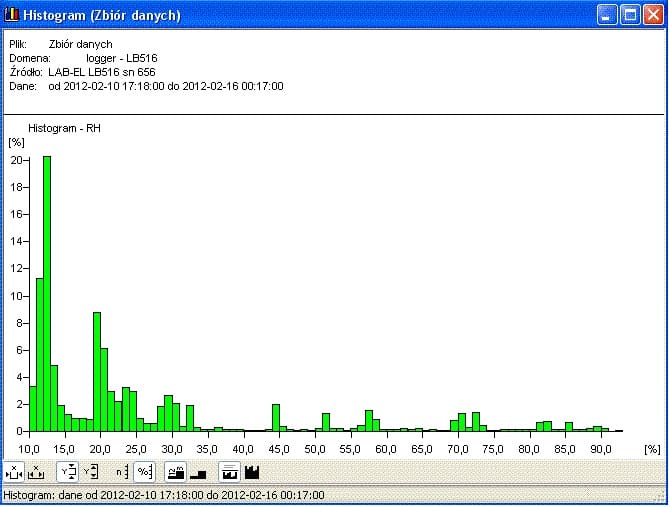 The LB-516A recorder is designed for controlling and documenting the course of technological processes in production facilities — especially in medical and food industries. It may be used to record climate parameters during the transportation of goods subject to temperature (temperature monitoring during transportation). The thermohygrometer may be placed in packages with the transported goods. The recorder is especially useful for meeting the requirements of production quality (HACCP) and transportation control.
Technical Data
TEMPERATURE MEASUREMENT (LB-516AT, LB-516A)
Measurement uncertainty
±0.5°C
±0.2°C
(within the range of -10…40°C)
Measurement range
-30…+70°C
Measurement resolution
0.1°C
HUMIDITY MEASUREMENT (LB-516A)
Measurement uncertainty
±3% (within the range of 20…80%)
±5% in the remaining range
Measurement range
10… 95%
Measurement resolution
0.1%
MEASUREMENT MEMORY
Parameter
Reading range
Resolution
Capacity
Interval of measurements
Temperature measurements recording — LB-516A/AT
-30…+70°C
0.1°C
30,000 entries
1…255 minutes
Temperature and humidity measurements recording — LB-516A
0…+100%
0.1%
15,000 entries
1…255 minutes
POWER SUPPLY, MECHANICAL DATA
Power source
3.6 V / 1,000 mAh
lithium battery
Guaranteed battery operation time
8/4 years
LB-516AT / LB-516A (recording every 10 minutes)
Dimensions, cylindrical housing
diameter: 22 mm, length: 180 mm
housing material: ABS
Weight
ok. 40 g
Housing protection class
IP 30
Optional equipment
Stand for the LB-701 probe
USB AB cable
Other versions
LB-516T temperature miniature recorder.


See also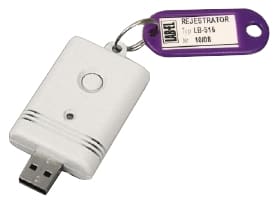 Recorder LB-516T
Small size thermometer and recorder, powered by a long-lasting lithium battery. For measurements the recorder uses a semiconductor temperature sensor.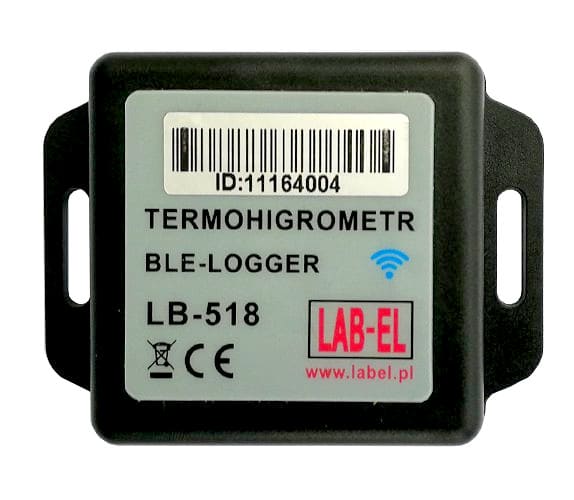 Thermohygrometer LB-518 BLE-LOGGER
Wireless relative humidity and temperature mini recorder, equipped with BLE radio interface. It is powered by an internal exchangeable 3 V battery.