Sensor for Continuous Room Microclimate Monitoring with an LB-856 Recorder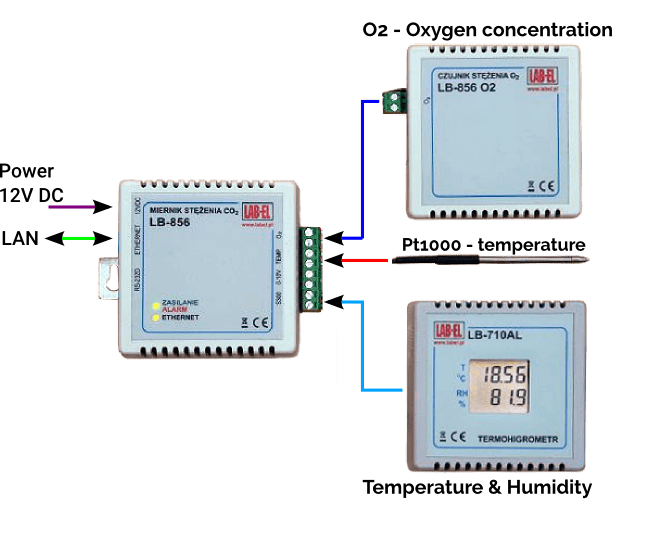 Measurement and recording:


air temperature sensor
air relative humidity sensor
O2 (oxygen) concentration sensor

CO2 (carbon dioxide) concentration sensor
additional temperature sensor for any selected medium


Ethernet interface
12 V / POE power supply
Aim of continuous room microclimate monitoring
It often happens that in a workplace, office, conference hall, production space, people start to feel weary and experience difficulty in maintaining concentration. This is not necessarily attributed to a monotonous job, boring meeting or repetitive operations at the production stand. It is, however, typical for incorrect air quality parameters in a crowded and poorly ventilated room. That is the reason why the constant monitoring of basic microclimate parameters in workplaces is so important.
The influence of the atmospheric composition on someone in a professional environment
The majority of standards describing requirements for the environmental conditions in a workplace focus on temperature and relative humidity issues. This is, however, not the whole picture. Nowadays, the average person spends an increasing majority of his or her life in confined indoor spaces with an elevated carbon dioxide concentration and reduced oxygen concentration. CO2 even constitutes up to 30,000 ppm (3%) of the volume of exhaled air. A relatively small rise in CO2 concentration and drop in O2 in a room causes a rapid decrease in comfort for the people and can cause unpleasant ailments.
During an 8-hour workday, the safe threshold of CO2 concentration equals 5,000 ppm (particles of CO2 per million particles of air, 5,000 ppm = 0,5%). This is, however, a safety threshold, and not the comfort and health threshold. Complaints about the air quality usually arise when the CO2 concentration exceeds 600–800 ppm, and intensify above 1,000 ppm. According to various international standards, the recommended CO2 concentration for very high quality air is below 600 ppm; for high quality air it is 600–1,000 ppm, and for acceptable quality air it is 1,000–1,400 ppm (EN 13779, CDC, IDPH, IAQUK, OSHA, EngineeringToolBox); at the same time, the CO2 concentration exceeding 1,000 ppm is often considered (e.g. by OSHA) a proof for the need to improve a building's ventilation system. More information is available from the naukaoklimacie.pl website.
A reduction in the quantity of oxygen is equally dangerous. Oxygen shortage is the reason for the majority of deaths among employees subject to contact with various gases. Normal oxygen concentration in the atmospheric air is approx. 20.9% (in volume). With a drop in concentration by a few percent, to approx. 17%, a person may feel sluggish, breathless, mental processes are disturbed and there are disorders in motor coordination. When in an atmosphere containing as little as 14… 15% of oxygen, leads to death by suffocation in a very short period of time. An increase in oxygen concentration in the air is equally dangerous. This may lead to a state of euphoria, emotional excitement. Additionally, when the concentration of approx. 24% is exceeded, the inflammability of most material rises drastically. All flammable materials become extremely flammable. Even the clothes that are normally inflammable, may become flammable.
Therefore, there are reasons for the intensified and continuous monitoring of both the carbon dioxide and oxygen concentrations in rooms.
Sensor for continuous room microclimate monitoring
The offered set of measuring instruments for continuous room microclimate monitoring consists of the LB-856 carbon dioxide concentration meter that features connections with external components: the LB-856-O2 oxygen sensor, the LB-710AL thermo hygrometer and, optionally, an additional temperature sensor for any other medium. The set provides the measurement of:
air temperature;
relative air humidity;
carbon dioxide concentration;
oxygen concentration;
the temperature of any given medium (e.g. the temperature of radiators).
The completion of external sensors may be freely modified.
Measurement results recording and transmission
The LB-856 concentration meter features a built-in recording memory, enabling the automatic recording of all measurement results: CO2 and O2 concentrations, temperature and humidity. The measurement results are shared via Ethernet interface, which provides easy integration with the network infrastructure, as well as air-conditioning and ventilation systems that are standard nowadays in every modern building.
Dedicated software
The device may additionally come with software for Windows systems — LBX software — enabling:
presentation of current readings from devices;
control of external devices (air-conditioning, ventilation);
alarm monitoring and signalling;
presentation of archived data — charts, reports, histograms;
data archive management;
access for remote clients.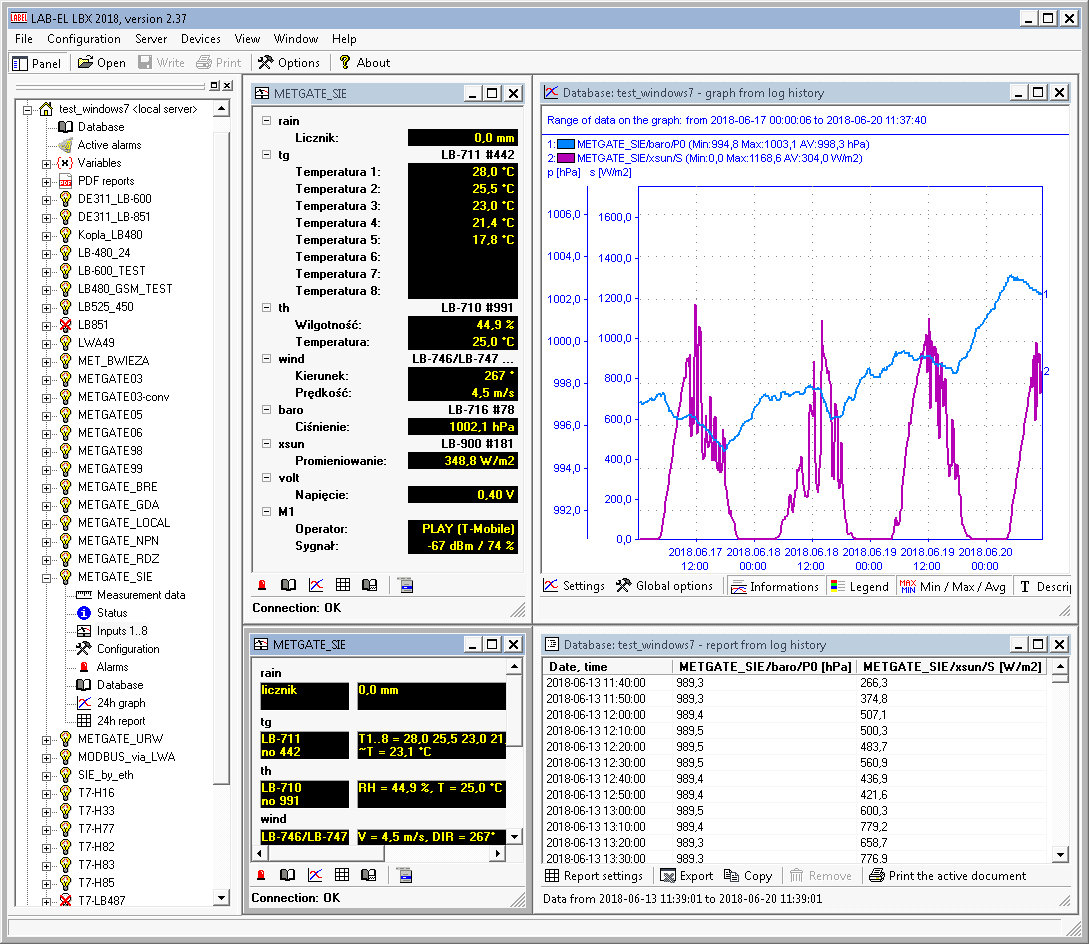 Power supply
The LB-856 carbon dioxide concentration meter is by default powered by an external 12 V power unit. This power source enables easy usage of the rechargeable battery power supply in systems that require it. Optionally, the LB-856 CO2 recorder may be equipped with the POE module, providing a power supply via the Ethernet cable, without the need to use an external network power unit. This option features a simplified installation, eliminating the need to establish a connection with the electricity mains — e.g. in places, where it is not available or not convenient. The use of POE requires a suitable network infrastructure — the used network switches must be POE type ports; it is also possible to use an intermediary power unit (midspan).
Instruments with accredited calibration certificates
Each of the offered thermometers, hygrometers and carbon dioxide concentration meters may feature an individual calibration certificate, issued by the accredited LAB-EL Calibration Laboratory.