LB-490 – a data collection module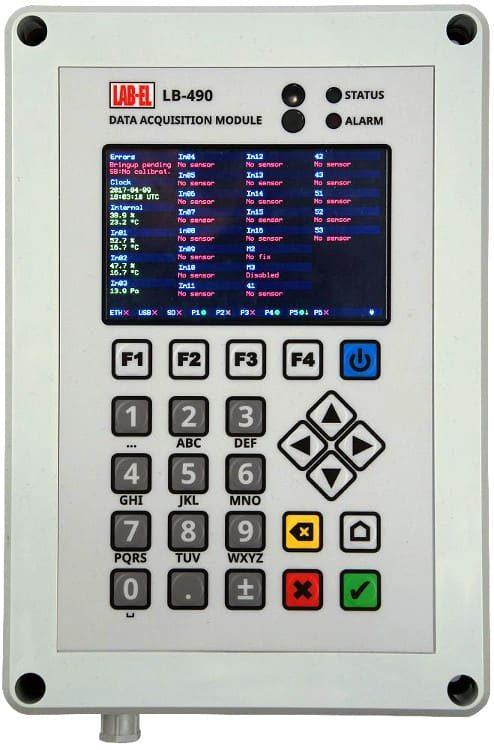 large display and keyboard:

data view and settings configuration

16 analog and digital inputs

S300, thermometer, voltage, current, pulse, binary

data archiving:

built-in RAM ~1 MB memory, battery supplied, record on a memory card

communication interfaces

Ethernet 10/100 Mbit/s, USB, RS-232, RS-485, GSM/GPRS, Bluetooth

standard communication protocols and data formats:

IPv4/IPv6, HTTP (HTML, JSON, XML), SNMP, MODBUS

alarm signalling:

syslog, SNMP TRAP, email, SMS, audible signalling, relays

optional modules (6 ports):

RS-232, RS-485, Bluetooth, relays, GSM, GPS, S300 inputs, fast/precise ADC, precise thermometer 0.001°C
User manual
Ethernet configuration manual
General description
LB-490 module is used to collect and record measurement data, shared via its communication interfaces (mainly Ethernet) using a range of various communication protocols.

Power supply
LB-490 module is equipped with two power supply inputs: mains supply and buffer supply from a battery. Buffer power supply from a battery allows for operation in conditions where mains supply is unavailable. Such an operation is supported by a special operation mode consisting of putting the station in a sleep mode and then activating the station again in order to record and send data. Activation of the module may be carried out using various methods: by cyclic clock control or asynchronously as a result of events on the inputs of the module. Activating the sleep mode of the station for a time of inactivity allows for optimisation of power consumption and prolonging buffer power supply operation to a maximum extent.
Example applications
Weather station: measurement of temperature and air humidity, atmospheric pressure, wind speed and direction, sun exposure. Battery supply, activation of the sleep mode of the station to save energy. Periodic activation of power supply, recording and sending data.
Server room monitoring: measurement of temperature in various points, air humidity measurement, flood sensor, door opening sensor with detection of the sensor line sabotage.
Local temperature measurement: a possibility to measure temperature in 16 points using simple and low-cost thermistor probes.
The module is equipped with 16 inputs, and each of them may be individually and independently configured to operate in the following modes (similarly to LB-480 recorder):
The module has an embedded internal temperature sensor.
There is a possibility to connect further measuring sensors using an expansion module.
The module may record data using 2 methods:
Save in an internal memory (RAM).

The built-in memory has 1 MB capacity and the majority of it is intended for data recording. The memory has its own buffer power supply from a built-in battery, and thus its contents is maintained when the device is turned off. This memory may be directly accessed using lbx software.

Save on a memory card.

Concurrently with save in the built-in memory, the recorder may save data in a memory card. The data may be then read-out directly on a PC. A presence of a memory card is not required to record data – an internal memory is always available. However, its capacity is relatively small, and a memory card allows for archiving data for a significantly longer period of time.
The module enables read-out of data via popular, standard communication protocols:
Expansion modules
The functionality may be extended via additional modules. It is possible to install any 6 modules at the same time:
The module can individually operate the alarming function. There are 32 independent alarms available, each has its own individual source (a value measured by any sensor) and an individual output. The following outputs are available:
A basic software used to read-out and visualise data is lbx.
Data from the recorder may also be loaded using standard communication protocols that enable integration with any other IT system.
Technical data
LB-490 recorder
Measurement inputs
S300
compatibility: any data source in S300 current loop digital standard
data transmission: 300bps 7/N/1
temperature – thermistor

10k thermistor sensor


the range of measurement: -50...+150°C
measurement resolution: 0.1°C
measurement uncertainty:
+/- 4°C for 140°C,
+/- 1°C for 100°C,
+/- 0.2°C for 50°C,
+/- 0.2°C for 25°C,
+/- 0.2°C for 0°C,
+/- 2°C for -40°C
temperature – Pt1000

Pt1000 platinum resistor sensor


the range of measurement: -200..+850°C
measurement resolution: 0.1°C
measurement uncertainty:
+/- 6 °C for 750 °C,
+/- 3 °C for 320 °C,
+/- 1 °C for 130 °C,
+/- 0.5 °C for 0 °C,
+/- 1 °C for -80 °C,
+/- 2°C for -190 °C
voltage analog 0..10 V
the range of measurement: 0.00..10.00 V
measurement resolution: 0.01 V
measurement uncertainty: 0.01 V
current analog 0..20 mA
the range of measurement: 0.00..20.00 mA
measurement resolution: 0.01 mA
measurement uncertainty: 0.01 mA
binary/pulse
short-circuit state detection: R < 8k06
open state detection: R > 8k06
switch
line short-circuit: R = 0 .. 2k6
closed contact: R = 2k6 .. 8k06
opened contact: R = 8k06 .. 24k
line interruption: R > 24k
Interfaces
Ethernet
10/100 Mbit/s, full-duplex / half-duplex, flow-control
POE (optionally upon request)
Digital outputs
normally open/normally closed relays
the number of outputs: 2
maximum constant load current: 8 A
Recording memory
recording period
1-60,000 seconds
set with 1 second resolution
memory capacity
~1 MiB
Power supply
external power supply
power supply voltage: 12 V DC
power consumption: max x W (without S300 inputs)
each S300 input increases power consumption by 25 mA (at 12 V power supply: 0.3 W)
POE (Power Over Ethernet)
(optionally upon request)
36..57 V
class 1 (max 3.84 W)
power supply via data lines 1-2/3-6 or via unused lines 4-5/7-8
Operating temperature range
-40..+50°C
Storage temperature range
-40..+70°C
Humidity range
0..95%
without water condensation
External dimensions
Plastic housing
279 x 191 x 102 mm