LB-480 Multichannel Data Recorder with GSM, GPRS, Ethernet Communication & Internet Thermometer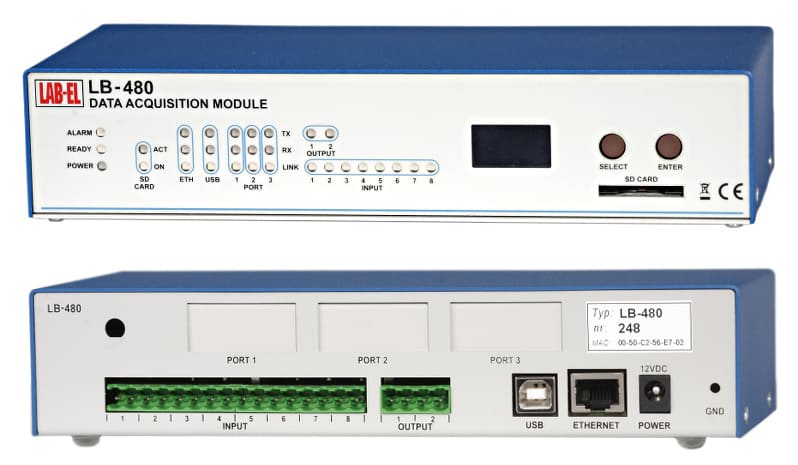 8 analogue–digital inputs

S300, thermometer, voltage, current, pulse, binary

Data archiving:

Built-in ~1 MB RAM memory, battery powered, memory card storage

Communication interfaces

Ethernet 10/100 Mbit/s, USB, RS-232, RS-485, GSM/GPRS, Bluetooth

Standard communication protocols and data formats:

IPv4/IPv6, HTTP (HTML, JSON, XML), SNMP, MODBUS

Alarm signalling:

syslog, SNMP TRAP, email, SMS, sound signalling, relays

Optional modules (3 ports):

RS-232, RS-485, Bluetooth, relays, GSM, GPS, S300 inputs, fast/accurate ADC, precision thermometer 0.001°C, 433/866 MHz radio transceiver
User manual
Ethernet network configuration manual
A working demo device online
General Description
The LB-480 recorder is used for collecting and recording measurement data, subsequently shared via its communication interfaces (first and foremost: Ethernet) with the use of a range of various communication protocols.

Exemplary Applications
Server room monitoring: temperature measurement in different points, air humidity measurement, flood sensor, door open sensor with sensor line sabotage detection.
Mini weather station measuring the following: air temperature and humidity, atmospheric pressure, wind speed and direction, insolation.
Local temperature measurement: possible to measure temperature in 8 points with simple and inexpensive direct thermistor probes.
Multipoint temperature measurement: with 8 LB-711 sensors connected, temperature measurement is possible in 64 points; each probe features high accuracy measurement thanks to the platinum sensors connected with 4-wire leads.
The module is equipped with 8 inputs, each of which may be individually and independently configured to operate in the following modes:
The module features a built-in internal temperature sensor.
Possible to connect additional measurement sensors with the use of extension modules.
The module may record data in 2 ways:
Internal memory storage (RAM).

The built-in storage capacity is 1 MB mainly designated for data recording. The memory storage features its own power supply from an integrated battery and keeps the content safe when the device is switched off. This memory may be accessed directly via LBX software.

Memory card storage.

Concurrently with saving data to the built-in memory storage, the recorder may save data on a memory card. The data may be subsequently read on a computer. The memory card is not mandatory for recording data — the internal memory is always available. Its capacity, however, is quite limited, and a memory card enables data archiving throughout a much longer period of time.
The module enables data reading via popular standard communication protocols:
Extension Modules
The functionality may be extended with additional modules. Any 3 modules may be installed at the same time:
The module may operate alarm signalling independently. There are 32 independent alarms available, and each of them features an individual source (the size measured from any given sensor) and independent output. The following inputs are available:
The basic software for reading and visualising data is the LBX application.
Data from the recorder may also be loaded with the use of standard communication protocols, which enable integration with any other IT systems.
LB-480 Thermometer–Recorder Applications
The LB-480 recorder is designed for controlling and documenting climate conditions during the course of technological processes in production facilities, logistics warehouses — especially in pharmaceutical, medical and food industries. It is especially useful in meeting the requirements for ISO and HACCP production quality control. When equipped with suitable external sensors, e.g. LB-710T thermometers or LB-710A hytherographs, the recorder may be used to control temperature and humidity in rooms. The LB-480 recorder caters to the safety requirements for the storage of vaccines, medicines and other products sensitive to temperature in State Sanitary Inspection facilities, outpatient clinics, hospitals and pharmacies.
Technical Data
LB-480 recorder
Measurement inputs
S300
Compatibility: any data source in the standard of S300 digital current loop
data transmission: 300 bps 7/N/1
Temperature — thermistor

10k thermistor sensor


Measurement range:: -50…+150°C
Measurement resolution: 0,1°C
Measurement uncertainty:
±4°C for 140°C,
±1°C for 100°C,
±0.2°C for 50°C,
±0.2°C for 25°C,
±0.2°C for 0°C,
±2°C for -40°C
Temperature — Pt1000

Pt1000 platinum resistor sensor


Measurement range: -200…+850°C
Measurement resolution: 0,1°C
Measurement uncertainty:
±6°C for 750°C,
±3°C for 320°C,
±1°C for 130°C,
±0.5°C for 0°C,
±1°C for -80°C,
±2°C for -190°C
Analogue voltage 0…10 V
Measurement range: 0.00…+10.00 V
Measurement resolution: 0.01 V
Measurement uncertainty: 0.01 V
Analogue current 0…20 mA
Measurement range: 0.00…20.00 mA
Measurement resolution: 0.01 mA
Measurement uncertainty: 0.01 mA
Binary/pulse
Positive state detection: R < 8k06
Negative state detection: R > 8k06
Switch
Line shorting: R = 0 … 2k6
Closed contact: R = 2k6 … 8k06
Open contact: R = 8k06 … 24k
Line interruption: R > 24k
Interfaces
Ethernet
10/100 Mbit/s, full-duplex / half-duplex, flow-control
POE (optionally on request)
Digital outputs
built-in semiconductor relay
Number of outputs: 2
Maximum continuous load current: 120 mA
Maximum actuation resistance: 35 &ohm;
Galvanic insulation: 3,750 V
Recording memory
Recording period
1–60,000 seconds
with a resolution of 1 second
Memory capacity
~1 MiB
Power supply
external power unit
Power supply voltage: 12 V DC
Power input: max. 2.5 W (without S300 inputs)
each S300 input increases the power input by 25 mA (at 12 V power supply: 0.3 W)
POE (Power Over Ethernet)
(optionally on request)
36…57 V
class 1 (max. 3.84 W)
power supply via 1-2/3-6 data lines or via unused 4-5/7-8
Operating temperature range
0…+50°C
-20…+70°C — extended range, available on individual request
Storage temperature range
-20…+70°C
Humidity range
0…95%
without water condensation
External dimensions
Steel varnished case
220 x 95 x 48 mm